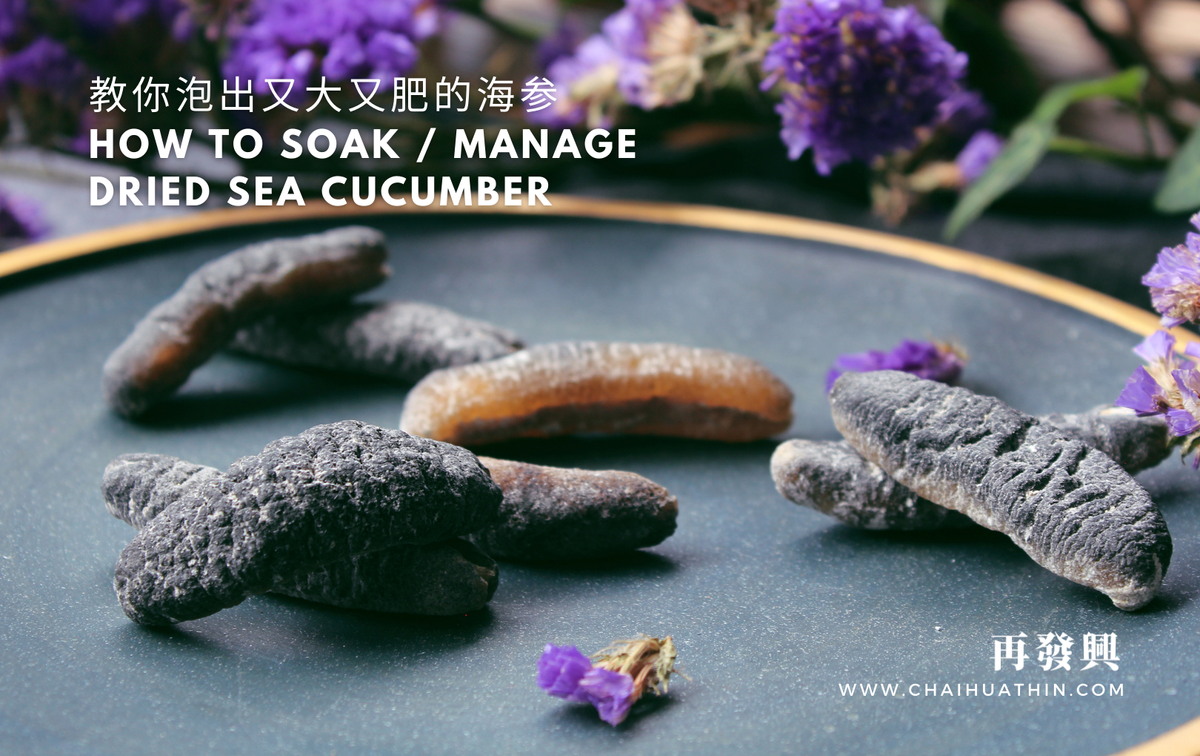 PRECAUTIONS WHEN HANDLING DRIED SEA CUCUMBERS:
Sea cucumbers should avoid contact with oil, salt, and rice grain throughout the soaking process.

泡发海参全程不能接触油,盐和米。


Change water every 12 hours when soaking.

浸泡时每12小时换水。


---
HOW TO SOAK DRIED SEA CUCUMBERS:
Step 1:

在容器里倒入没过海参的水,放在冰箱里浸泡48-72小时(直到海参变软)。
Soak sea cucumber for 48-72 hours (until sea cucumber softens) in refrigerator. Make sure the sea cucumber is fully immersed in water.

Step 2:

将海参大火煮开20-30分钟左右。自然凉透后将海参置于冰箱,再浸泡24小时。之后再将海参煮开一次。

Bring the sea cucumber to a boil for about 20-30 minutes. Upon cooling, soak sea cucumber in the refrigerator for another 24 hours. Repeat step 2.
Step 3:
用剪刀将泡软的海参沿腹部由下往上剪开。 清洗海参内部并去除所有的杂质。再泡24小时左右。
Cut the soaked sea cucumber upwards along the abdomen using scissors. Clean and remove all impurities inside. Continue soaking sea cucumber in clean water for about 24 hours.
Step 4:
将发质好的海参冷冻储存方便以后食用。
Freeze and store the sea cucumbers for later consumption.
---
HOW TO STORE DRIED SEA CUCUMBERS?
Stored in its original packaging, they can be kept for a long time (2-3 years). Make sure to keep them in a cool, dry place like the pantry. If they are frozen, then they should be kept in the freezer and can be kept up to a year.
If you've begin the thawing process, then the sea cucumbers should be cooked and consumed within 2 days.